Fish Oil Benefits for Athletes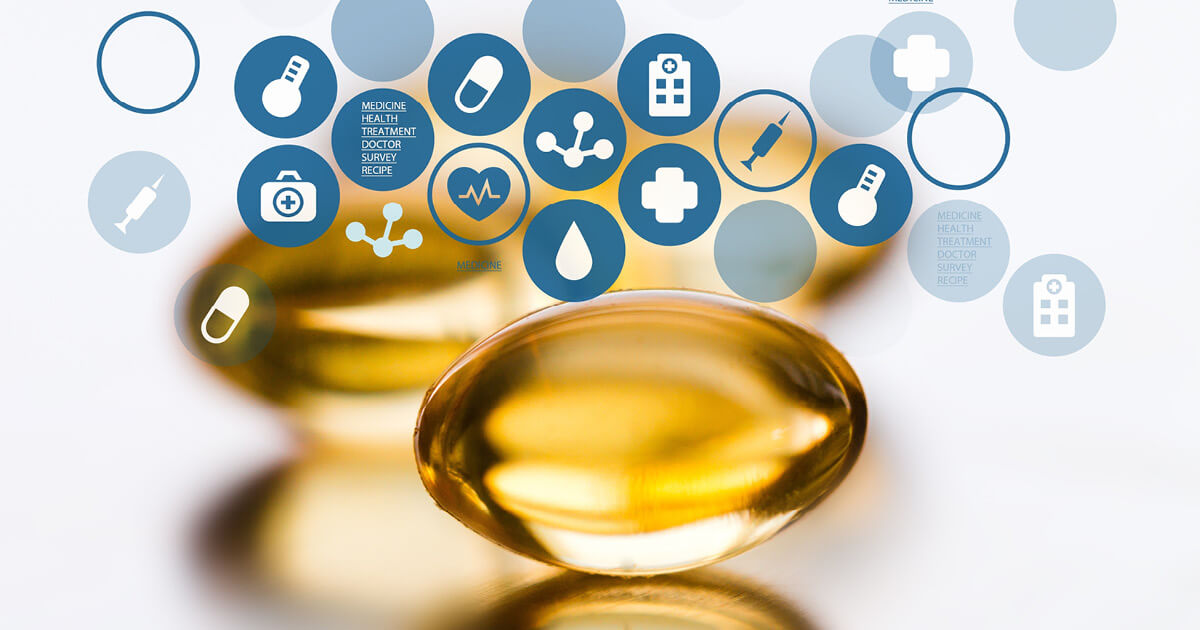 Omega-3 Fatty acids must be obtained through diet and supplementation. They are not naturally made by our bodies and it's impossible to consume enough through our diet alone. Even if you are making the effort to eat wild salmon, avocados, and nuts, you are not consuming enough. Omega 3's offer health benefits for everyone, including performance-enhancing effects.
Fish Oil Benefits for Athletes
Improves recovery by reducing inflammation. Inflammation is created from free radicals in the muscle mitochondria, trauma and micro-tears to the muscles from training.
Increases muscle protein synthesis which helps with muscle growth and improves strength and physical performance.
Improves cognitive function which plays a role in reaction times and visualizing. One Journal of Sports Medicine & Science study showed that soccer players dramatically improved their reaction time with just four weeks of fish oil.
Increases oxygen delivery to the heart muscle, which improves heart function. On game days or training days this is important as you will be requiring less oxygen then your opponent.
Reduces muscle soreness by decreasing inflammation, strengthens bones by increasing your body's level of calcium absorption and improve lung function during exercise.
Helps to combat the intense training effects on the immune system. Intense exercise increases oxidative stress (free radical production) on the body.  Omega 3s may help to increase antioxidant activity, reducing the level of free-radical damage on the body.
Fish oils are an excellent source of omega-3 fatty acids. It is important to chose a high quality oil. Make sure the oil you choose is tested for heavy metals, processed under nitrogen or low pressure, and is batch tested for oxidation which takes away from the health benefits.
References
Gomez, J., M. American Academy of Pediatrics Committee on Sports, and Fitness, Use of performance-enhancing substances.Pediatrics, 2005. 115(4): p. 1103-6.
Heikkinen, A., et al., Dietary supplementation habits and perceptions of supplement use among elite Finnish athletes.Int J Sport Nutr Exerc Metab, 2011. 21(4): p. 271-9.
Sanchez-Benito, J.L., E. Sanchez-Soriano, and J.G. Suarez, Unbalanced intake of fats and minerals associated with hypertension risk in young cyclists.Nutr Hosp, 2007. 22(5): p. 552-9.
Simopoulos, A.P., Evolutionary aspects of the dietary omega-6:omega-3 fatty acid ratio: medical implications.World Rev Nutr Diet, 2009. 100: p. 1-21.
Eaton, S.B. and M. Konner, Paleolithic nutrition. A consideration of its nature and current implications.N Engl J Med, 1985. 312(5): p. 283-9.
Eaton, S.B., S.B. Eaton, 3rd, and M.J. Konner, Paleolithic nutrition revisited: a twelve-year retrospective on its nature and implications.Eur J Clin Nutr, 1997. 51(4): p. 207-16.
Dideriksen, K., S. Reitelseder, and L. Holm, Influence of amino acids, dietary protein, and physical activity on muscle mass development in humans.Nutrients, 2013. 5(3): p. 852-76.
Wiens, K., et al., Dietary Supplement Usage, Motivation, and Education in Young, Canadian Athletes.Int J Sport Nutr Exerc Metab, 2014.
Macaluso, F., et al., Do fat supplements increase physical performance?Nutrients, 2013. 5(2): p. 509-24.
Di Girolamo, F.G., et al., Omega-3 fatty acids and protein metabolism: enhancement of anabolic interventions for sarcopenia.Curr Opin Clin Nutr Metab Care, 2014. 17(2): p. 145-50.
McDonald, C., J. Bauer, and S. Capra, Omega-3 fatty acids and changes in LBM: alone or in synergy for better muscle health?Can J Physiol Pharmacol, 2013. 91(6): p. 459-68.
Gingras, A.A., et al., Long-chain omega-3 fatty acids regulate bovine whole-body protein metabolism by promoting muscle insulin signalling to the Akt-mTOR-S6K1 pathway and insulin sensitivity.J Physiol, 2007. 579(Pt 1): p. 269-84.
Smith, G.I., et al., Omega-3 polyunsaturated fatty acids augment the muscle protein anabolic response to hyperinsulinaemia-hyperaminoacidaemia in healthy young and middle-aged men and women.Clin Sci (Lond), 2011. 121(6): p. 267-78.
Smith, G.I., et al., Dietary omega-3 fatty acid supplementation increases the rate of muscle protein synthesis in older adults: a randomized controlled trial.Am J Clin Nutr, 2011. 93(2): p. 402-12.
Robinson, S.M., et al., Diet and its relationship with grip strength in community-dwelling older men and women: the Hertfordshire cohort study.J Am Geriatr Soc, 2008. 56(1): p. 84-90.
Hutchins-Wiese, H.L., et al., The impact of supplemental n-3 long chain polyunsaturated fatty acids and dietary antioxidants on physical performance in postmenopausal women.J Nutr Health Aging, 2013. 17(1): p. 76-80.
Rodacki, C.L., et al., Fish-oil supplementation enhances the effects of strength training in elderly women.Am J Clin Nutr, 2012. 95(2): p. 428-36.
Schoenfeld, B.J., The use of nonsteroidal anti-inflammatory drugs for exercise-induced muscle damage: implications for skeletal muscle development.Sports Med, 2012. 42(12): p. 1017-28.
Calder, P.C., n-3 fatty acids, inflammation and immunity: new mechanisms to explain old actions.Proc Nutr Soc, 2013. 72(3): p. 326-36.
Fetterman, J.W., Jr. and M.M. Zdanowicz, Therapeutic potential of n-3 polyunsaturated fatty acids in disease.Am J Health Syst Pharm, 2009. 66(13): p. 1169-79.
Tartibian, B., B.H. Maleki, and A. Abbasi, Omega-3 fatty acids supplementation attenuates inflammatory markers after eccentric exercise in untrained men.Clin J Sport Med, 2011. 21(2): p. 131-7.
Tartibian, B., et al., Long-term aerobic exercise and omega-3 supplementation modulate osteoporosis through inflammatory mechanisms in post-menopausal women: a randomized, repeated measures study.Nutr Metab (Lond), 2011. 8: p. 71.
Jouris, K.B., J.L. McDaniel, and E.P. Weis, The effect of omega-3 fatty acid supplementation on the inflammatory response to eccentric strength exercise.JSSM, 2011. 10: p. 432-438.
Tartibian, B., B.H. Maleki, and A. Abbasi, The effects of ingestion of omega-3 fatty acids on perceived pain and external symptoms of delayed onset muscle soreness in untrained men.Clin J Sport Med, 2009. 19(2): p. 115-9.
Karacabey, K., Effect of regular exercise on health and disease.Neuro Endocrinol Lett, 2005.26(5): p. 617-23.
Venkatraman, J.T. and D.R. Pendergast, Effect of dietary intake on immune function in athletes.Sports Med, 2002. 32(5): p. 323-37.
Powers, S.K. and M.J. Jackson, Exercise-induced oxidative stress: cellular mechanisms and impact on muscle force production.Physiol Rev, 2008. 88(4): p. 1243-76.
Poprzecki, S., et al., Modification of blood antioxidant status and lipid profile in response to high-intensity endurance exercise after low doses of omega-3 polyunsaturated fatty acids supplementation in healthy volunteers.Int J Food Sci Nutr, 2009. 60 Suppl 2: p. 67-79.
Gray, P., et al., Fish Oil Supplementation Reduces Markers of Oxidative Stress But Not Muscle Soreness After Eccentric Exercise.Int J Sport Nutr Exerc Metab, 2013.
Andrade, P.M., et al., Effects of the fish-oil supplementation on the immune and inflammatory responses in elite swimmers.Prostaglandins Leukot Essent Fatty Acids, 2007. 77(3-4): p. 139-45.
Santos, V.C., et al., Effects of DHA-Rich Fish Oil Supplementation on Lymphocyte Function Before and After a Marathon Race.Int J Sport Nutr Exerc Metab, 2013. 23(2): p. 161-9.
Pigozzi, F., et al., Bone mineral density and sport: effect of physical activity.J Sports Med Phys Fitness, 2009. 49(2): p. 177-83.
Kelly, O.J., et al., Long-chain polyunsaturated fatty acids may mutually benefit both obesity and osteoporosis.Nutr Res, 2013. 33(7): p. 521-33.
Orchard, T.S., et al., The association of red blood cell n-3 and n-6 fatty acids with bone mineral density and hip fracture risk in the women's health initiative.J Bone Miner Res, 2013. 28(3): p. 505-15.
Moon, H.J., et al., Positive correlation between erythrocyte levels of n-3 polyunsaturated fatty acids and bone mass in postmenopausal Korean women with osteoporosis.Ann Nutr Metab, 2012.60(2): p. 146-53.
Jarvinen, R., et al., Associations of dietary polyunsaturated fatty acids with bone mineral density in elderly women.Eur J Clin Nutr, 2012. 66(4): p. 496-503.
Tartibian, B., B.H. Maleki, and A. Asghar, The calciotropic hormone response to omega-3 supplementation during long-term weight-bearing exercise training in post menopausal women.JSSM, 2010. 9: p. 245-252.
Moyers, B., et al., Relation of whole blood n-3 fatty acid levels to exercise parameters in patients with stable coronary artery disease (from the heart and soul study).Am J Cardiol, 2011.107(8): p. 1149-54.
O'Keefe, J.H., Jr., et al., Effects of omega-3 fatty acids on resting heart rate, heart rate recovery after exercise, and heart rate variability in men with healed myocardial infarctions and depressed ejection fractions.Am J Cardiol, 2006. 97(8): p. 1127-30.
Ninio, D.M., et al., Docosahexaenoic acid-rich fish oil improves heart rate variability and heart rate responses to exercise in overweight adults.Br J Nutr, 2008. 100(5): p. 1097-103.
Tagawa, T., et al., Long-term treatment with eicosapentaenoic acid improves exercise-induced vasodilation in patients with coronary artery disease.Hypertens Res, 2002. 25(6): p. 823-9.
Rontoyanni, V.G., et al., A comparison of the changes in cardiac output and systemic vascular resistance during exercise following high-fat meals containing DHA or EPA.Br J Nutr, 2012. 108(3): p. 492-9.
Walser, B., R.M. Giordano, and C.L. Stebbins, Supplementation with omega-3 polyunsaturated fatty acids augments brachial artery dilation and blood flow during forearm contraction.Eur J Appl Physiol, 2006. 97(3): p. 347-54.
Walser, B. and C.L. Stebbins, Omega-3 fatty acid supplementation enhances stroke volume and cardiac output during dynamic exercise.Eur J Appl Physiol, 2008. 104(3): p. 455-61.
Buckley, J.D., et al., DHA-rich fish oil lowers heart rate during submaximal exercise in elite Australian Rules footballers.J Sci Med Sport, 2009. 12(4): p. 503-7.
Peoples, G.E., et al., Fish oil reduces heart rate and oxygen consumption during exercise.J Cardiovasc Pharmacol, 2008. 52(6): p. 540-7.
Tartibian, B., B.H. Maleki, and A. Abbasi, The effects of omega-3 supplementation on pulmonary function of young wrestlers during intensive training.J Sci Med Sport, 2010. 13(2): p. 281-6.
Mickleborough, T.D., et al., Fish oil supplementation reduces severity of exercise-induced bronchoconstriction in elite athletes.Am J Respir Crit Care Med, 2003. 168(10): p. 1181-9.
Mickleborough, T.D., et al., Protective effect of fish oil supplementation on exercise-induced bronchoconstriction in asthma.Chest, 2006. 129(1): p. 39-49.
Fontani, G., et al., Cognitive and physiological effects of Omega-3 polyunsaturated fatty acid supplementation in healthy subjects.Eur J Clin Invest, 2005. 35(11): p. 691-9.
Gomez-Pinilla, F., Collaborative effects of diet and exercise on cognitive enhancement.Nutr Health, 2011. 20(3-4): p. 165-9.
Fontani, G., et al., Effect of omega-3 and policosanol supplementation on attention and reactivity in athletes.J Am Coll Nutr, 2009. 28 Suppl: p. 473S-481S.
Guzmán, J.F., et al., DHA- rich fish oil improves complex reaction time in female elite soccer players.JSSM, 2011. 10: p. 301-305